UKRAINE WAR
Start and End?
1842 - during the Great Game against the Russian Empire my father's great-uncle was taken hostage in the Retreat from Kabul. It is no longer a Great Game but WAR.
Hitchhiking to India in 1962's cover says:
'mob threatens John after coup (in 1953) by CIA scared of Soviet Union'.
2016 - I wrote: 'visiting Baltic capitals and St. Petersburg had provided an education into the decayed Soviet Empire and the resurgent new nations.'
2021 - 23 June, BBC wrote: 'Today, many of those former territories and allied states, such as Poland and the Baltic states, have joined Nato. So Russia feels surrounded, and that is a dangerous place to be. Yet as dramatic as Wednesday's events appear (HMS Defender off Crimea), this could end up being just a dress rehearsal for a bigger test to come.
Read more ...
A GARDEN IN LOCKDOWN
The website
John Waller writes: In 1982 we bought a derelict house from the estate of Dr. Roles, the founder of the Study Society. In the jungle of a garden was a man meditating. By 2014 the garden was restored and we went on our first world cruise to Japan and China. By 2020 the garden was again in need of much work. In March, returning from our last world cruise, to South America, just the two of us used the lockdown to restore it: my wife Jannie, with one new knee, cannot dig but knows all about flowers; I know nothing about them but have a spade, like my ancestors. Two of our grandchildren, Sean and Jade, cannot fly home to their parents and come to live with us.
Read more ...
Watch the video ...
VIKINGS
Using a punt as a 'longship' we follow Viking journeys through history

'Vikings' is developed from 'Vikings go to Croydon' and consists of a number of low-cost documentaries in the style of RTE's Waterways set in Denmark, England, Ireland, France and Iceland. RTE's Waterways travels the rivers and canals of Ireland. On the River Shannon, we visit Clonmacnoise, where the Vikings pillaged the monasteries. In Denmark, home of the Vikings, we start our journey at the Roskilde Viking Museum.
Read more ...

VIKINGS GO TO CROYDON
The Vikings test their 'longship' through industrial South London
History says that in 871-872 the Great Heathen Army overwintered only in London. Four teenagers, all media students, set out to challenge that by telling the story of how the Vikings go to Croydon. Local historian Brian Lancaster did not believe this, but the youngsters, in four short YouTube films titled 'The Vikings go to Croydon', prove him wrong. Have they succeeded? Make up your own mind - see for yourself.
Read more ...

IMOGEN
An historical six-part TV docudrama

Based on the book Atlantic Affair by John Waller. His father Otway, described on RTE as an iconic figure in Irish Sailing and inventor of running sails, returns to Ireland to a divorce, a new wife and the Anglo-Irish Economic War. With 80% of Ireland's main export of cattle blocked by Britain, a calf slaughter scheme is introduced and the psychological shock this causes becomes a bitter part of the folk memory of the economic war: England and Ireland introduce tariffs; border controls are imposed to stop smuggling; and Fordson and Guinness are forced to move production to England. He has to leave Ireland in 1934 and sell his 26ft yawl Imogen in which he set sail around the world single handed. John finds Imogen in a boatyard in New Zealand. His grandfather tells of the tragedy of the Great Famine.
Read more ...

FLAMES OF FREEDOM
The NEW screenplay – script written by Peadar Clancy

Read at the Richard Harris International Film Festival in Limerick, October 28, 2018.
Based on a true story, Irish Flames, when a family on the verge of falling apart finds itself thrown into the maelstrom of war, the cracks begin to tell. Themes of forbidden fruit, political upheaval and duty versus justice come together in Flames of Freedom to tell the tale of the Irish War of Independence from the perspectives not only of the freedom fighters, but also that of Irish born landowners and officers forced to make terrible choices in an absorbing story of love and sacrifice.
Read more ...
FLAMES OF FREEDOM
The original screenplay - edited by Rosalind Scanlon

In the Irish War of Independence, an Englishwoman falls in love with the local leader of the IRA. She endangers her family when she saves his life as the Black and Tans close in.
Read more ...
FLAMES OF FREEDOM
The new stage play - edited by Rosalind Scanlon

The play follows the development of two relationships: Robbie, the young son of the Big House, and his friend Con, the gardener; and Meli, Robbie's mother, and Martin, the headman of the neighbouring estate and leader of the Volunteers. The two other minor characters are Alec, Robbie's father, who returns from World War One, and Mrs. Murphy, the cook, who is a link between characters. The climax of the play is the arrival of the Black and Tans and the torching of the Big House.
Read more ...
OPERATION AJAX, THE CIA COUP IN IRAN
The stage play - edited by Mike Etherington
In 1962, nine years after the coup, John Waller, a 22 year-old Cambridge graduate hitch-hiking to India, witnessed the hate of the Tehran 'crowd' towards the Americans and the British. His play Operation Ajax, the CIA Coup in Iran, is immensely relevant today as Trump seems to be overturning Obama's peaceful doctrine towards Iran. It is based on Stephen Kinzer's book 'All the Shah's Men', which the Washington Post Book World described as "for anyone with more than a passing interest in how the United States got into such a pickle in the Middle East".
Operation Ajax has a further relevance today as many recall the imaginary good times of the Empire. In the early 1950s Britain would have been bankrupt without the revenues from Iranian oil, $300 million per year! Britain's involvement in the coup increased the hate of the Iranians.
Read more ...
VENETIAN CORFU AND EDWARD LEAR'S PAINTINGS
A love affair with Beautiful Corfu
In Venetian Corfu and Edward Lear's Painting we start in Venice, travel through the Corfu Channel and learn about Ottoman invasions, French occupation and a cause of the Cold War. Lear's Cannon Walk contains 23 locations: the Jewish Quarter, two Venetian forts, Venice like streets, two British palaces and cricket ground, and French arcades. Lear on the Corfu Trail is from Paxos in the south to Corfu's northern cape where we meet Gerald Durrell. We hear about Democrats and Oligarchs, find where Odysseus landed on Corfu and discuss Global Warming through the changing olive picking season and see the effects of a beach destroyed and tavernas undermined by rising sea.

To be published.
HITCHHIKING TO INDIA IN 1962
India, the Balkans and Greece in 2015
Two Cambridge students hitchhike to India through Tito's Yugoslavia and Greece, recently under German occupation and then divided by civil war. In Turkey John records the deportation of Armenians to Syria where ISIS is today. In Iran, the CIA coup creates real danger for John. In Amritsar, there is anger over partition, and in Delhi they have tea with Indira Gandhi. John revisits India, discusses the refugee crisis and Syrian Civil War in the Balkans and lives the Greek tragedy.
Read more .
..
"This is a really interesting piece of work, which blends personal anecdote and adventure with the history and politics of the places visited on an epic journey." – Vince Cable, November 2015
ATLANTIC AFFAIR
The book
On Saturday June 14 1930, my Irish father, Otway Waller stayed with his friend and gunrunner, Conor O'Brien, in Foynes, Co. Limerick. Next morning he set sail, along the circumnavigation route taken seven years before by Conor in his yacht Saoirse (Freedom), in his own epic single-handed cruise to the Canary Islands in his 26ft yawl. Returning home on the Yeoward Line s/s Aguila, he fell in love – with my mother. Back in Ireland he had a problem: he was already married with a son, Peter.
Read more ...
"An invention by which a yacht may be made to run indefinitely before the wind, with no one at the tiller, has been introduced by an Irish yachtsman. The voyage that Captain Waller made alone in a little 6-ton yawl from his home in Ireland to Las Palmas, a distance of some 1,600 mile, is almost an epic of the sea, while it goes to prove how much hammering a small, well built boat will stand at sea." Tatler, April 21, 1931
"I thoroughly enjoyed reading Atlantic Affair, the story of one of Ireland's three greatest yachtsmen."
Marcus Connaughton of RTE Seascapes, January 2014
Now available as an eBook.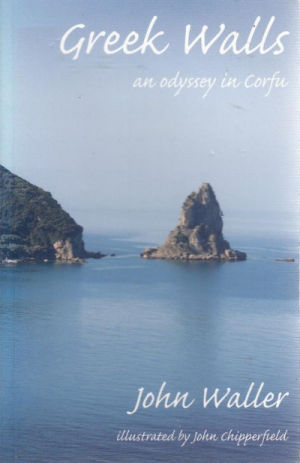 IRISH FLAMES
The book
"In that early summer of 1920 the political storm clouds had gathered around Ireland. The dream of Independence, for which the blood of seven centuries had so often flowed, appeared as elusive and remote as ever. Promises, half promises and innuendoes evaporated, leaving first disillusionment, then bitterness and now open and active hostility … a crowning insult had been inflicted upon a harassed and poverty-stricken Ireland, when English jails provided 'soldiers' considered suitable to deal with the Irish question."
Read more ...
"A remarkable account of the end of British rule" - The Irish Post
FLAMES OF FREEDOM
The second play

The play is based on the play 'Irish Flames' and is a warning that we must learn from history; that we must never forget what happened or it could happen again. The image on the banner above is John Waller's ancestor held hostage in Afghanistan in 1842 after the Afghans had massacred all but one of the 16,000 British Indian Army in the retreat from Kabul.The 'Burning of Cork' in 1920 has been repeated in Falluja Iraq and elsewhere.
Read more ...
"It has an immensely resonant and rivetting story to tell … No questioning the calibre and pertinence of the story for a contemporary audience," – Druid Theatre, Galway
FROM IRISH TO AFGHAN

A 'surge' is not just a 21st Century attempted solution to imperial conflict. The great 'surge' of 1920 with the introduction of thousands of troops and Tans into Ireland did not force the Irish to give up their fight for freedom. Negotiations between enemies brought peace. Is this the solution in Afghanistan today? In John Waller's ancestor's letter home from captivity in 1842 he said: 'I believe that Akbar Khan is willing to make terms if they are not too hard upon him.' In 1919, the bombing of Afghanistan failed to prevent the Afghans from getting their independence but it turned them against the British.
Read more ...
IRISH FLAMES
The original play
The play is based on John Waller's book Irish Flames – Peter Waller's true story of the arrival of the Black and Tans, which the Irish Post described as a remarkable account of the end of British rule. It focuses on two developing relationships: between Peter – Robbie in the play – and his older friend Con, who changes from gardener to IRA Volunteer; and Meli, Peter's English mother, and Martin, the leader of the IRA, who she is in love with and saves when he is injured in an ambush on the Black and Tans.
Read more ...
"We were interested to read the adaptation, which is assuredly written. The play offers a powerful comment on wartime violence and retribution." Royal Court
YIANNIS BOOKS
The website
John Waller sent his first book to 99 agents. 98 said "No"; one said "Self-publish" and Yiannis Books was born. It has published his own books: Greek Walls, An Odyssey in Corfu (2004); Corfu Sunset, Avrio Never Comes (2005); Irish Flames, The Arrival of the Black and Tans (2006); Corfu Sketches, A Thirty-year Journey (2008); Walking the Corfu Trail, With Friends, Flowers and Food (2010); Atlantic Affair (2013); Hitchhiking to India in 1962 (2015).
Read more ...
COVID MASK
Wear a mask and care for the community

From May 2020 to May 2022, early every morning I analysed Johns Hopkins University's new case data for European and major world countries and BBC new cases for selected UK towns. Weekly I added the number of deaths over the previous week. My conclusions were: mask wearing and lockdown worked and the national vaccination campaign was a great success. The following is a report before vaccinations arrived. In case of a future epidemic, I leave this page on my website.
"On 16 August 2020 UK COVID deaths had reached 46,791. For eight consecutive weeks UK deaths had exceeded the sum of the deaths in 12 major EU countries. Three days later the total was 5,325 lower because the government decided that those that died after four weeks would not be included in the statistics! Popular Chancellor Rishi Sunak was photographed serving food to encourage people to take up his meal deal offer. He did not wear a mask as demanded in the COVID rules. In Wimbledon Village a hundred maskless diners ate close together on the pavement.

During the delayed second lockdown during November, UK daily new cases dropped from 370 per 100,000 to 220. Then people were told that for five days over Christmas three households could meet. A U-turn on 21 December was too late to stop new cases rising to 830 by 8 Jan 2021when London's Mayor declared a 'major incident' and again called for masks to be worn in crowded outdoor places. In France and Italy, masks are mandatory. In Ireland, new cases dropped from 236 to 54 during lockdown, but by January 11 went to 1,323, the world's highest rate of infection, with critics blaming socialising over the festive period.
Please download, print and display a poster and share this on social media.

Download a poster ... "